Spiders are everywhere- in your backyard, closet, bedroom, and God-forbid, your boot! Worrying about these pesky buggers every time you play hide and seek with your kids or grab a stack of wood can either frighten you or make you end up in hospital.
Worry no more because Triumph Pest Solutions is here to help you address every spider problem you have.
Our Professionals Will Resolve Your Spider Problem
You might be thinking that it's easy to make a DIY approach for spider removal in your house. It might be accurate in some instances. However, you'll still need a professional to remove them in many cases. One reason is that it's a lot more convenient than trying to figure out how to approach it. More than that, we are equipped with the knowledge and tools to eradicate them wholly and instantly.
Spiders can be a nuisance when they cover your home in webs. They can make anyone who has unsuspectingly walked through a web look like they are practicing karate.
Spiders are arachnids. They have eight legs and no wings. Their bodies have two distinct regions.
All spider produce venom, but not all are fatal or harmful. A persons reaction to spider bites is determined by many things including area of the body, a persons general size and sensitivity, the amount of venom, venom potency and temperature. (Truman's Guide to PMO 2012)
Spiders very rarely bite people. Most in the Sheboygan County area are harmless and even incapable of biting a human.
The spider control treatment is generally twice a year around May and August. We treat around windows, doors, eaves and the base of the home. This localized treatment creates a barrier and focuses on the areas where they like to hide so that we use the product efficiently. Then when the spiders come out of their hiding spots they contact the product and eventually cease to exist. This barrier also help prevent any new spiders from entering the home.
Most buildings have acceptable control with two annual treatments. See our current spider control pricing for a quick estimate.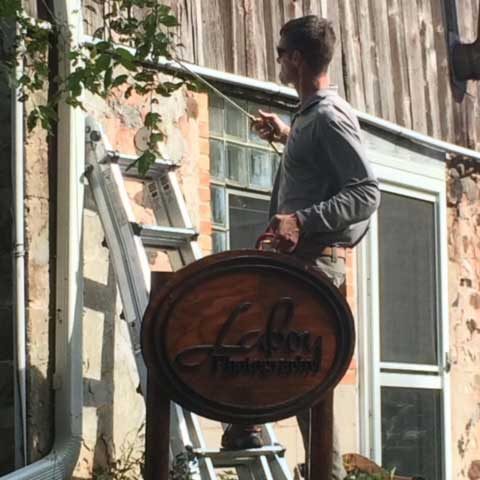 Request A Callback
I will be in touch as soon as possible to discuss your needs.
Area Assessment
The first thing that we'll focus on is how to determine the places where these spiders live. After that, you can guide us the whole time as we narrow down some critical assessments.
Our approach is simple, if we see cobwebs, it only means you have spiders, and the more webs, the more spiders. Unfortunately, lethal and non-lethal spiders make webs, so you can never rule out that your house spiders are not venomous. Thus, it's always better to have a spider expert handle them.
properly until you'll come up with a decision you like.
Cobwebs Removal
After inspecting the areas where to operate, we will immediately decimate these webs because they are the harbors of these pesky arachnids. Without cobwebs, they'll immediately reduce in numbers because it's the webs that catch their prey.
You might think it seems uncomplicated if you'll do this yourself but remember, we have dewebbing materials. These tools and equipment make removing these propagating spider elements faster and more effective.
Our deal depends on how you would want to continue our spider services. To maintain a web-free home, you can always ask us to keep dewebbing for months or even years. Interior or exterior dewebbing, we can do that.
Application of Nontoxic Pesticide Spray Treatment
The culmination of our spider removal service is to ensure to spray areas with pesticides where we removed cobwebs.  This spraying intends to seal any chances these spiders will come back and spin cobwebs again.
Our presence is instrumental because we have years of experience in which spider pesticides work on your property. But, of course, the decision is still on you, especially once we present the pros and cons of each product we would want you to choose from. Nevertheless, we will be guiding you properly until you'll come up with a decision you like.
Best Spider Control Solutions Offered in Plymouth, Wisconsin
Should you undergo an upsurge in undesirable guesses, we can attend your home or office to pinpoint possible entry points and latch them off. Some spiders are nuisance unintentionally. Most just want food or shelter, especially during the winter season. However, we understand that your home is supposed to be a safe space for you and your kids. Thus, we will do everything to provide that as we serve you.
Fast and Effective Spider Control – Wisconsin
It's virtually impossible to keep your property free from spiders in an absolute manner. However, spider control technicians like us do many management strategies to control spider populations long-term. To speak with our professionals, call (920) 946-6737, and we'll be in touch.
We hired Triumph Pest Solutions for treatment of carpenter ants and spiders. Communication was prompt and professional. Travis was on time and was very knowledgeable about his products, and solutions. Price was very reasonable, service was quick and thorough, and was well worth our time. Ants and spiders were gone almost immediately. We are very happy with our choice to hire Triumph Pest Solutions. Highly recommended!
Jacob Markiewicz
Outstanding service is provided. Very reasonable and the owner takes pride in what he does. We had a severe issue with wasps. We no longer have a problem. An appointment was easy to make. The work was done on time. The owner is highly knowledgeable. We also had an issue with bats. They don't deal with bats but Triump provided info for a different company who were equally as wonderful. We will continue to work with this company.
Barb Hensley
Triumph Pest Solutions is extremely easy to work with and they do a phenomenal job. We had issues with stinging insects and spiders around our home the previous summer. After bringing in Triumph Pest Solutions last year we've had zero issues. They are prompt, responsive and do great work. Highly recommended.
Brian Hagel
Travis did an excellent job of spraying last year. Even came back when we had an issue with bald face wasps after the first spray. Had no issues after that. We have him coming back again this spring and fall.
Bonnie Dietsche
Triumph Pest Solutions
W4626 County Road C
Plymouth WI 53073
Phone: (920) 946-6737
Serving all of Sheboygan County as well as parts of Manitowoc, Fond du lac, and Ozaukee Counties.
Let's Solve Your Pest Control Problem
Enjoy Your Home & Live A Better Life